This is a sponsored nine-part content series from Unmetric featuring the most engaging social media campaigns.
Thanksgiving Day marks, among other things, the advent of the holiday season. It also signals that Black Friday and Cyber Monday are right around the corner. In the blink of an eye, the sale madness will give way to Christmas and New Years. It is certainly a time for brands to step up their game on social media and show some love to their audiences. It could be just a simple wish, an exciting contest or a high production value video. Since there is no dearth of content around this holiday, brands face an uphill task to create content that stands out among the rest.
Let us take a look at some of the most engaging brand campaigns around Thanksgiving on social media:
Traeger Grills
I cannot really picture Thanksgiving without a turkey. And I am sure that is the case with most people too. This makes it the perfect holiday for a brand like Traeger Grills. The brand definitely rose to the task with a set of Posts catering to the different pain-points of their Fans during the holiday.
They started off the holiday wishing their Fans a very happy thanksgiving. The Post carried a picture that exuded the spirit of Thanksgiving. They also announced a cook-off and encouraged Fans to send in pictures of their Thanksgiving meal preparations. This had a definite impact on the engagement that they received. To sweeten the deal, they also added that Fans could find Thanksgiving recipes on their website.
Their most engaging Post of the lot was a picture sent in by one of the winners of the contest:

They shared a couple of other winning contest entries, as well as a funny Thanksgiving comic. They drove the customer to their store with a reminder of what is in store for them for Black Friday. Traeger proved a friend to their Fans with a useful idea for repurposing their Thanksgiving leftovers.
Whataburger
This QSR brand maintains its quirky, humorous tone, even while wishing their Fans on this holiday:

This quip won the brand over 11,000 Likes and close to 400 shares.
REI
One of the most interesting brand initiatives around Thanksgiving was by this outdoor recreational equipment brand. Their #OptOutside campaign was a bold move. REI calls their Fans to spend more time outdoors. They showed real pluck by choosing Black Friday, a sales goldmine for brands, as an '#OptOutside' day. REI reminded their Fans about this in their Thanksgiving wish:

Four Loko
This alcoholic beverages brand spoke to its target audiences in a way they would appreciate. First, they gave their audiences Thanksgiving Day goals with this tweet. Then they proposed a revolutionary idea for the meal – why stop at beer-can chicken when you can have Four Loko turkey?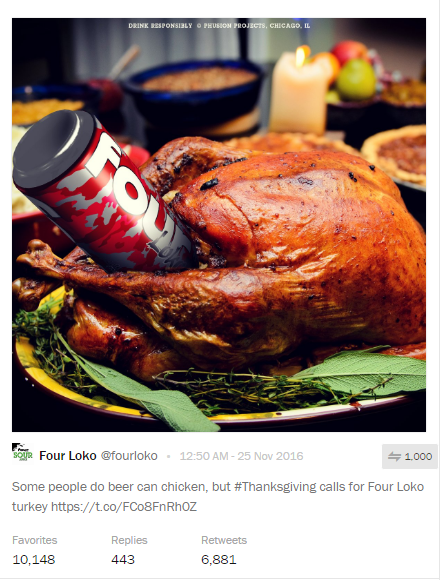 Aspen Snowmass
Aspen Snowmass showed social media audiences why it is the perfect place to spend your Thanksgiving at with this irresistible picture:
Keep it commin! @Snowmass will OPEN THURSDAY, Thanksgiving Day as scheduled with limited terrain. And we're thankful. pic.twitter.com/3pBAJ0PSQa

— Aspen Snowmass (@AspenSnowmass) November 22, 2016
They also tweeted out a light-hearted picture of a turkey having fun on their gondolas. These tweets helped put the word out about the opening day.
Nintendo
Why would a Thanksgiving greeting from Nintendo get so much engagement on Twitter? They set a turkey roasting on the fire within the location of The Legend of Zelda. The following Tweet amassed 13,504 Likes and 5,678 Retweets:
Happy Thanksgiving! pic.twitter.com/7TyTgERn5v

— Nintendo of America (@NintendoAmerica) November 24, 2016
LEGO
If you are wondering what Lego would have to say around Thanksgiving, take a look at this post and the engagement it got:
Evidently, you can build anything with Legos.
GoPro
If you thought that GoPro is best for shooting landscapes or adventure sports, the brand expanded the possibilities of their product. Check out this highly engaging Post:
If you are wondering why a fish-eye effect would make a Thanksgiving meal look appealing, look closer. It's the view from the other side. (Hint, hint: look out for those teeth)
Sephora
As far as greetings go, Sephora won the race on addressing the pain-points of their customers. It is even more commendable coming from a cosmetics brand:
Walt Disney World
What spells Disney more than stunning animation? The Christmas greeting from the amusement park leveraged their strength and stature with a simple but endearing animated video:
This Thanksgiving season witnessed some outstanding content across social media channels. What is amazing in the content that we have here is how effortlessly these brands have worked themselves into the conversation around the holiday.
If you are stuck for holiday content ideas, give Discover a go. You can find brand content around any holiday or event under the sun. With this data-powered inspiration engine, there will be no stopping you.